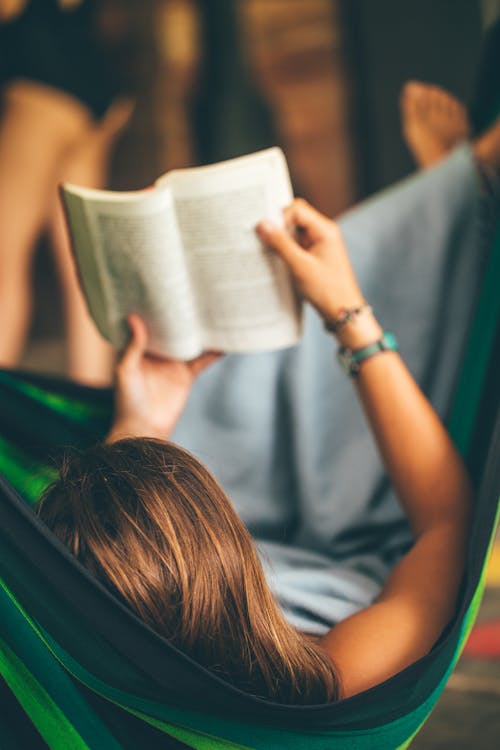 Books do not talk to other books.

They speak, seemingly intimately to readers, directly but separately.

We are left with thousands or even millions of people who read the same book, while others read other books or no books at all. If books are to enlighten, empower, educate, and entertain, we clearly need the following to happen:
·
More people need to read the same books.
·
More people need to read books.
·
More readers of books need to read more books.
Or, is everything I just said never going to happen?

Even if some or all of that happens, will it change the way the world is?
The optimist in me says we can do better -- a lot better – individually and societally – when it comes to reading books.

As a result, whatever value books can inculcate in each of us, the world can improve.
Trust in books and the world will change.
It always amazes me how few people read the same book.

Wildly successful books, in a given year, may sell a million copies. Some might sell tens of millions of copies over a period of time.

But out of 330 million Americans and 7.65 billion world citizens, those numbers don't begin to address reaching any more than a fragment of the population.
The reasons are sadly too numerous as to why people don't read books:
·
Mental/Physical Disability
·
Competition From TV, Internet, Theater, etc.
The list can go on.

Sometimes it's more excuse than reason, but there are boundaries that people impose upon themselves that do not allow for them to reap the benefits that awaits them in the beautiful, bold world of books.
For those that do read books, many do not read a lot of them.

They lose focus or lack patience.

They draw out a book, leaving less time to read more books.
When it comes to book selectivity, people will read what interests them, which means they self-impose a limit on what they will expose themselves to making the book reading experience too predictable and not fully as valuable as it should be.

Some people discover books through literally wandering through a bookstore, while others rely too often on the recommendations of others – friends, family, bosses, teachers, mentors, clergy – or book reviews, advertisements, and magazine articles.
But what would the world look like if we read some of the same books, either within a certain time period or at the exact same time as one another? What if these books moved us to see things differently: to take action, to help ourselves and others, to feel moved to no longer act as we have been?
The question then becomes, so which books should we all read?

In what order?

Who will help moderate and discuss what we read and put it into context?

Exposing everyone to a lot of knowledge can also overwhelm and misdirect them.
Books can – and need to – do many things.

They help us imagine new worlds.

They teach us morals. They alert us to possibilities and counterpoints to our lives.

They give us facts and a prism through which to see things.

They give us history while broadening a path to the future.

Books put a microscope to things and they allow for a greater appreciation for life.

But their amazing power is muted by the world's inability to set some standards and unity over what gets read and by whom.
Even our schools fail us. From state to state, school district to school district, there is too much variance when it comes to which books all children shall read. Even when a book is read by many students, it may not be fully appreciated or understood simply because children lack life experience or enough book reading to fully appreciate what the book is covering. Reading a classic at age 14 may be good, but reading it at 44 can be even more powerful.
We are a free society – free to read what we want and when – and free to not read anything at all.

Reading books can't be compulsory but we should encourage the reading of old and contemporary books, fiction and non-fiction, in the hopes of the masses evolving together. But the winner of all possibilities would be to get huge buy-in, across the country, for people to read the same book at the same time. Imagine how different the country would be if we all began to think about the same subject matter and source material, whatever the topic.
Certainly, there could be some odd consequences in reading the same book for all of us. For instance, what if it's a book about a specific diet and suddenly tens of millions of people embraced it?

Now everyone is hitting flooded gyms, eating certain foods that kill or balloon an industry, and buying new clothes due to weight loss.

Or what if it's a book that encourages threesomes or to convert to Christianity or to invest in a handful of companies?

Yes, the world could change in ways we never imagined.
Groupthink can be just as harmful to a nation that is pulled in 50 different directions. In one scenario, opposition is silenced and the mases go in a singular direction. In the latter scenario, competing interests leave us frayed and isolated, where nothing leads or directs us.
A book, though it should stand alone, is best read amongst many books, for we need more than one book to guide us.

We need books to understand our health, wealth, faith, relationships, parenting, and a hundred other areas of life.

One book, no matter how interesting, agreeable, and informative, can't cover everything.

Not an almanac nor the Bible. Not a novel nor a collection of poetry. Many books, on many topics, from many voices, over many years, are needed to shape us.
I believe we need more book readers and for more people to have some common reading lists.

Today's siloed world is not uniting us. We are a divided nation without a uniform roadmap. Some things desperately need agreement. Things like the environment, health care, and gun violence are not things of fashion or a lifestyle choice. They are issues that could doom us if not handled adequately.
Can books help cure these ills? We need leadership and answers, now more than ever to some of life's biggest challenges and threats.

The answer or cure may very well reside in a book, one that we must all read.

But which one?
Authors, Avoid These 21 Worst Practices For Seeking Media Coverage
How Do Authors Get The Media's Attention?
Authors, How Do You Brand Yourself?
The Book Marketing Strategies Of Best-Sellers
Book Marketing Buzz Blog Celebrates Post #3,000
How Authors Can Sell More Books
No. 1 Book Publicity Resource: 2019 Toolkit For Authors -- FREE
How Authors Get Bulk Sales Now
Brian Feinblum's insightful views, provocative opinions, and interesting ideas expressed in this terrific blog are his alone and not that of his employer or anyone else. You can – and should -- follow him on Twitter @theprexpert and email him at brianfeinblum@gmail.com. He feels much more important when discussed in the third-person. This is copyrighted by BookMarketingBuzzBlog ©2019. Born and raised in Brooklyn, he now resides in Westchester. His writings are often featured in The Writer and IBPA's Independent. This was named one of the best book marketing blogs by Book Baby http://blog.bookbaby.com/2013/09/the-best-book-marketing-blogs and recognized by Feedspot in 2018 as one of the top book marketing blogs. Also named by WinningWriters.com as a "best resource." He recently hosted a panel on book publicity for Book Expo America.