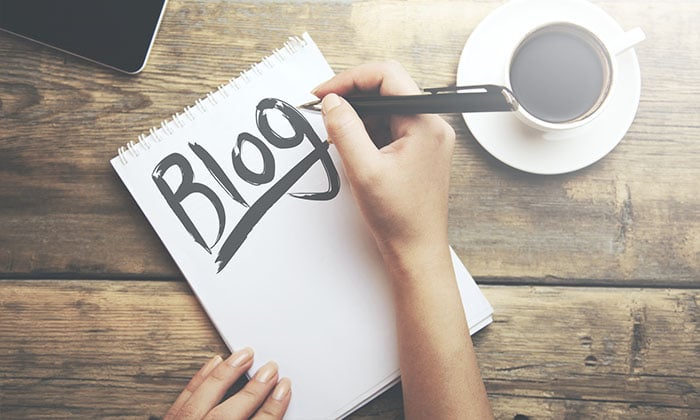 Authors of books are writers, yet when it comes to using their best asset and No. 1 weapon – their ability to write and communicate powerfully - they often miss the boat. Plenty of authors do not blog well, often, or at all. That has to change if they want to push their brand and sell books.
Blogging can be work. It can also be fun. The key is to find a happy medium.
First, establish a blog.

Go onto WordPress or Blogger or some other blog platform and get started. Fill out a profile, create an account, and title your blog. Use your name as the title or something that represents what you plan to write about, the way you'd title a book.
Next, write out a brief game plan or mission statement for what you want the blog to be. What will you cover, how will you approach it, and why should people read it? Answer those questions.

Map out how often you will post it. Develop a format or a look that you plan to stick with.
Start to draft future posts. Store up a few posts so that when you are busy, tired, sick, stressed or brain dead, you can have something to post.

Though length from post to post can vary wildly, from say 500 words to 1200 words – or more or less – try to have a consistent range.
Research bloggers who cover your topic. What can you learn from them? What should you seek to duplicate or enhance? Will they help you keep informed?
Respond to comments on your blog – or don't. Again, decide now and then be consistent.
Have a tagline – either on top that represents your persona and writings or end every post with it.
Don't put out a post unless you know it's factual, true to your values, and helpful to what you seek to accomplish.

To just dump content you don't like or believe in is a waste of everyone's time. Write well, be concise, and add something to the loud dialogue out there.
Think about the types of content you might have. For instance:
The best source for content?

Your book, the people you know, the news you read, and your own experiences.

Bottom line?

Post relevant content that your readers want or need.
Title each post carefully. Do you want to be specific or general? For instance, this post is called "How Authors Can blog to Success."

My target audience is authors so I included them. I put "success" as a qualifier as opposed to just saying how authors can blog. .
Have posts include sub-headings to break up chunks of text. You format should, at times, include images, bullet points, a readable font, use small paragraphs, and be original.

It should look and sound right.
While you deliver quality content, use key words naturally (helps with SEO), and link back to prior posts or your website. Always mention your book at the bottom of the blog with an "about you" paragraph.
It's not all about you or your book. Write about other people, events, or books – but try to bring it back to you.
The blog will be successful if it helps you meet goals in branding, book sales, sharing a great message, etc.

To make it a success write consistently, pour your passion into it, and promote your blog like a book, via social media.
Your blog is a tool – a means to an end – but it is also its own thing. The blog is something you can enjoy and be proud of.
I should know – I started my blog 8 ½ years ago and I'm about to crack two million clicks on it. I'm so happy it is reaching people like you and helping them. That's a wonderful reward!
How Should Any Author Define True Success?
Do This & Sell More Books. Guaranteed. Any Questions?
Brian Feinblum's insightful views, provocative opinions, and interesting ideas expressed in this terrific blog are his alone and not that of his employer or anyone else. You can – and should -- follow him on Twitter @theprexpert and email him at brianfeinblum@gmail.com. He feels much more important when discussed in the third-person. This is copyrighted by BookMarketingBuzzBlog ©2019. Born and raised in Brooklyn, he now resides in Westchester. His writings are often featured in The Writer and IBPA's Independent. This was named one of the best book marketing blogs by Book Baby http://blog.bookbaby.com/2013/09/the-best-book-marketing-blogs and recognized by Feedspot in 2018 as one of the top book marketing blogs. Also named by WinningWriters.com as a "best resource." He recently hosted a panel on book publicity for Book Expo America.