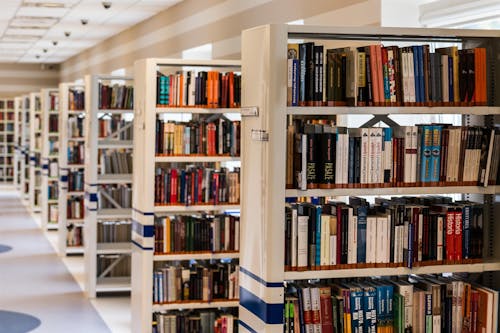 A recent Gallup poll showed that Americans visited libraries more often than movie theaters, sporting events or concerts. Normally I'd say that sounds great, but one has to wonder why.
After all, going to the library costs nothing. They have lots of music, movies, books, and computer terminals available for free. You can sit, hang out, and come and do research, homework, or casual reading.
Or is it more about changing social patterns and technology?
People may simply not feel the urge to go to crowded places to experience a movie, concert, or sporting event. Many feel it's a hassle to get expensive tickets, and parking, and sit through an entire event. Too many substitutes exist now. You can find any sporting event or movie on T.V., just about. Concerts can't be replaced, but some may prefer smaller venues like a club or simply watch musical videos on You Tube to get their fix.
Women, according to the poll, make 13.4 annual visits – compared to 7.5 for men – to the library. Men preferred to go to sports events or casinos twice as often as women – but both were less than visits to the library.
Men also spent double the time of women at parks and historic sites.
So how are library visits more popular for Americans than trips to either museums, theaters, sporting events, concerts, or casinos?
Maybe people have a renewed love affair with the library. After all, libraries are remaking themselves offering services, events, and resources that help the community and fill the needs of today's patron.
But I also can't help but wonder if the poll is not accurate or not fully reflective of what's going on.
For instance, I love books and reading. I may have visited the library a few times last year, but I went to the movies at least a few dozen times and to sporting events double my library visits. Am I unusual? Perhaps.
Or maybe there are two Americas. Some people with the disposable income and desire, see a lot of movies, concerts, museums, and sporting events. People with kids may attend more of these things (except concerts). And these people may hardly go to the library (unless you have kids).
Then there are others, seniors, people with little kids, or those in a bookstore desert who may visit the library often -- but not patronize other venues.
It also depends on where you live. Only 20 states have Major League Baseball teams, of course people in those states go to more sporting events than those in Mississippi.
Whatever the demographic breakdown, there is evidence that Americans still value and visit their libraries. That is great news for book publishers, educators, parents, intellects, and society. Governments need to continue funding libraries and to make sure the role of information and knowledge remains high in a country that at times seems to value only fame, fortune, and beauty.
Libraries, for many, are the first public place for children to experience the awe of books. Many kids come to a library before they go to school, maybe even before they visit a bookstore. The wonderful thing about libraries is that they can be enjoyed at any age or stage of life. They are built for everyone. You just need to bring an inquisitive mind.
Does The Writer's Dream Deserve Support?
What Should You Do to Market Your Book Successfully?
17 Book PR Strategies That Work
The Author Publicity Priority List
Brian Feinblum's insightful views, provocative opinions, and interesting ideas expressed in this terrific blog are his alone and not that of his employer or anyone else. You can – and should -- follow him on Twitter @theprexpert and email him at brianfeinblum@gmail.com. He feels much more important when discussed in the third-person. This is copyrighted by BookMarketingBuzzBlog ©2020. Born and raised in Brooklyn, he now resides in Westchester. His writings are often featured in The Writer and IBPA's Independent. This was named one of the best book marketing blogs by Book Baby
http://blog.bookbaby.com/2013/09/the-best-book-marketing-blogs
and recognized by Feedspot in 2018 as one of the top book marketing blogs. Also named by WinningWriters.com as a "best resource." He recently hosted a panel on book publicity for Book Expo America.