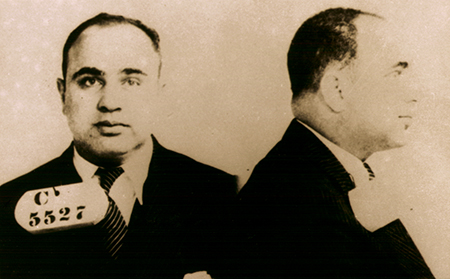 Eastern State Penitentiary: A History
1.
What inspired you to write a book,
Eastern State Penitentiary: A History, a
bout a prison?
I actually worked at Eastern State for about 18 months as a docent (a tour guide/interpreter). I was in graduate school at Temple at the time, and I was particularly interested in museum work, so working at Eastern State Penitentiary was a great opportunity. When it came time to write my dissertation, I decided to explore the history of prison education programs in the United States and use Eastern State Penitentiary as a case study (later published as Seminary of Virtue). To do that, I needed a really in-depth history of the prison which simply did not exist, so I decided to write it!
2.
How did you go about researching its history?

Well, I used a lot of traditional sources: official reports, grand jury investigations, etc. These were great sources for the administrators' version of the prison's history, but records were also very "sterile;" what I wanted was a human perspective as well as an institutional one. Unfortunately, few records created by the penitentiary's inmates have survived, particularly for the nineteenth-century. I overcame that by culling hundreds of stories about ESP from local, regional, and national newspapers and by using hundreds of pages of oral histories contained in the penitentiary's archives.
3.
What challenges did you have in writing this book?
The biggest challenge is the shortage of sources documenting the inmates' perspectives. Because ESP's inmates were usually poor and uneducated, a fair percentage of them were illiterate. Even for literate inmates, their letters have not survived. Therefore, I had to develop strategies for telling their stories. One was an extensive search of the memoirs, diaries, and autobiographies of individuals who visited the penitentiary. Another was the oral histories of the penitentiary's inmates, guards, and administrators. Last were newspaper and magazine articles that documented escapes, uprisings, and other unusual events in ESP's long history.
4.
What was so unique about ESP?
ESP is the United States' first penitentiary, or an institution designed to reform inmates. Previously, incarceration had been used sparingly and for brief periods of time (with the exception of imprisonment for debt), and punishments were usually physical. By the end of the eighteenth century, some people began arguing that sanctions for criminal behavior should serve a higher purpose: they should be calculated to reform lawbreakers. These ideas were put into practice in the 1790s at the Walnut Street Jail in Philadelphia, but only on a limited scale. They were also tried at a purpose-built prison in Pittsburgh, the Western State Penitentiary (opened 1826), but they really came into being at Eastern State Penitentiary (opened 1829). Here, all of the inmates were placed in individual cells and thereby segregated from one another. Though frequently called "isolation," this was not the case: inmates were visited by a stream of prison officials, religious instructors, and outside visitors. This regimen, which came to be called the "Pennsylvania System," became the basis for operating hundreds of prisons across the world (though it eventually lost out to the more economical "New York System").
5. Were you spooked spending time at the prison?
Not at all. I spent thousands of hours in the prison, including staffing several overnight ghost hunts, and I never saw anything that can be described as supernatural or unusual.



6. Did anyone famous serve time there?
Quite a few, actually. Probably the best known is Al Capone, the famous gangster. In addition, well-known bank robber Willie Sutton was incarcerated at ESP during the 1930s and 1940s and even participated in one of the penitentiary's most notable escapes. Importantly, the prison was also a tourist destination, attracting visitors such as Charles Dickens and the Prince of Wales (later King Edward VII).
7. Have any prisoners successfully escaped?
The depends on what you mean by "successfully." If you mean "got outside the prison," the answer is "yes, quite a few." If you mean "were never recaptured," that is an issue of some dispute. The prison recognizes only a single individual – Leo Callahan – who was not recaptured. However, in my research for Eastern State Penitentiary: A History, I came across several newspaper stories about inmates escaping and nothing about them ever being recaptured. Because of this, and because of the often fragmentary nature of the penitentiary's records, I'm skeptical that Callahan was the only one who "got away with it."
8. What do you think is the answer for America being the incarceration capital of the world?
Stop sending so many people to prison and improve economic and educational opportunities for poor Americans. The vast majority of people sent to Eastern State Penitentiary during its operational history were convicted of non-violent crimes (theft, forgery, etc.); almost all of these people were poor and faced significant barriers to supporting themselves economically.

Add to that "get tough on crime" measures like mandatory minimums and harsh sentences for drug possession and what you get is a recipe for our current predicament.



9. Do you have any family or friends that worked in law enforcement or were in prison?


No.
10. As a historian, what draws you to studying one thing over another?
That's an interesting question. I am interested in policy and politics, and my work reflects that. My first two books – Eastern State Penitentiary: A History and Seminary of Virtue: The Ideology and Practice of Inmate Reform at Eastern State Penitentiary, 1829-1971 – were attempts to understand the evolution of America's criminal justice system. My third book, The Homestead Strike: Labor, Violence, and American Industry, was an attempt to better understand the Tea Party and Occupy Wall Street movements by exploring one of the most famous labor disputes in U.S. history. My fourth book, The Bank War: Andre Jackson, Nicholas Biddle, and the Fight for American Finance, explored what I considered to be a key tension in American politics: that between technocratic competence and democratic accountability.
Another component in my work is my interest in Pennsylvania's history. Right now, I am working on a narrative history of Philadelphia that will be published in 2020.
Step out of your book marketing prison
Do authors have the right attitude to succeed at book marketing?
While popularity of social media grows, traditional media still leads the conversation
Authors should see book marketing like going to a gym regularly
How to model success of authors for your own book publicity
How to be persistent when marketing books effectively
How authors convince media of their uniqueness
Authors should zoom in on book marketing now
How authors can communicate better when promoting a book
How authors can sell more books
No. 1 Book Publicity Resource: 2019 Toolkit For Authors -- FREE
Brian Feinblum's insightful views, provocative opinions, and interesting ideas expressed in this terrific blog are his alone and not that of his employer or anyone else. You can – and should -- follow him on Twitter @theprexpert and email him at brianfeinblum@gmail.com. He feels much more important when discussed in the third-person. This is copyrighted by BookMarketingBuzzBlog ©2019. Born and raised in Brooklyn, he now resides in Westchester. His writings are often featured in The Writer and IBPA's Independent. This was named one of the best book marketing blogs by Book Baby
http://blog.bookbaby.com/2013/09/the-best-book-marketing-blogs
and recognized by Feedspot in 2018 as one of the top book marketing blogs. Also named by WinningWriters.com as a "best resource." He recently hosted a panel on book publicity for Book Expo America.