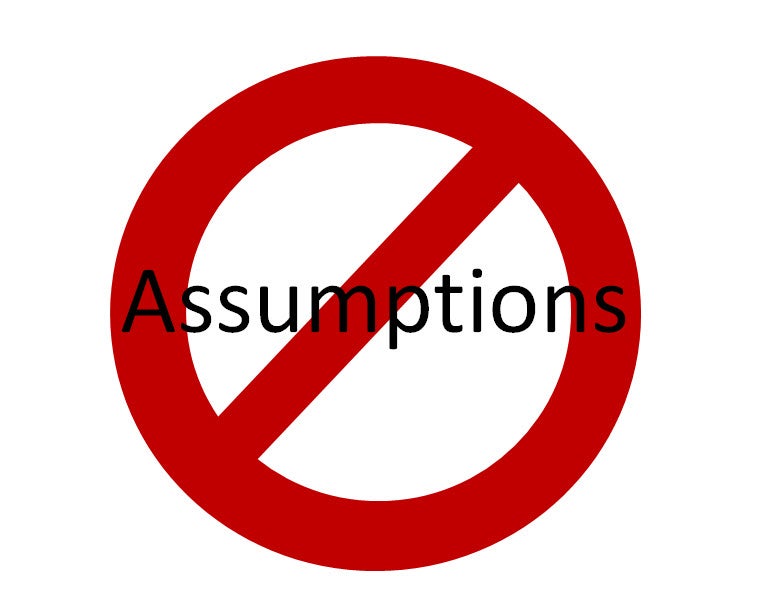 "Never assume," pronounced Felix to Oscar, his roommate in the 1970s TV comedy, The Odd Couple. "Because you will make an ass out of you and me."
Truer words were never spoken, but sadly, we operate under many assumptions, often at our peril. The book marketing world has its share of assumptions that are unwisely followed or acted upon – and the result is not very good.
Here are some common assumptions or assertions that authors make regarding book publicity and marketing – all mistaken, misinformed, or just plain old stupid:
"I can't afford to promote my book."
Well, you can't afford not to!
"All of the news media is bought and paid for."
No, traditional, legit media outlets neither pay for media interviews nor are they required to be paid. However, there is a growing list of some local media outlets that are charging for airtime. Technically, this is advertising and has to be identified as such. Further, there are some book review outlets, both in print and online, that charge a fee for a review – without a guarantee of being a positive one.
"A great book sells itself."
Unfortunately, a great book is just the starting point, not the end-all, be-all. No one will know it is a great book unless you market it.
"I just need an influencer to post about me."
Sounds good, but it is not easy to obtain. It is hard to track them down or give them a reason to post about you unless you pay them a big bucket of money. A sponsored post gives you third-party validation, at a price, but it alone doesn't make you a star. You still need to market yourself.
"There's no book out there like my book."
Think again. There are plenty, many of them just as good or better than yours. And if there is no other book like yours, that might be a sign that there is no market for yours.
"The media has lots of air time, digital space, and empty pages to fill."
They are not looking for you. They get plenty of queries and story ideas from other authors – and non-book experts like actors, musicians, politicians, businesses, non-profits, etc. Don't think for a moment that they are desperate for you.
"All that is needed to promote a book is my own blog, podcast, and social media posts."
Though it is helpful to have a solid and growing social media platform, that alone is not enough to market your book. You need to also explore other areas, from traditional media, to speaking, to advertising, to networking.
"A good road tour can sell lots of books."
That used to be the case but now travelling to multiple cities and setting up speaking engagements doesn't always have a payoff, given the costs and time invested. However, a small, localized road tour could be useful. Think of places you can travel to in a day by car – and then back. No hotel.
"Everything is done online – traditional media is dead."
Totally not true, even though it seems our lives are all tucked into a little hand-held box. Bigger, traditional media has a presence online, but they are real, physical places – newspapers, magazines, television shows, radio shows – and they are still relevant and important.
"My book is better than (name a best-seller) and should get more media coverage."
That's just your opinion – now go prove it. Again, no one knows you or owes you anything. You need to assertively push yourself onto others and work at getting people's attention.
"I will get a big ad in the New York Times Book Review and put this book on the map."
Ads don't pay for themselves when you are selling a lower-ticket item like a book. Ads only work when someone already has an established brand, like Stephen King, where the ad merely serves to remind people his latest book is out. However, when you are unknown, the burden of the ad to establish who you are and why your book is worth their attention is too high and hard to achieve.
"Podcasts are what I want to be on – and nothing else."
You need to have a diverse media portfolio, just like one diversifies their investments. Podcasts can be great, but no medium by itself is enough for your book to take off. You need to also be covered by other types of media, whether it is local or national TV, print, radio, or online.
"Once I make a best-seller list, lots of media should be covering my book."
Though making a best-seller list helps with your branding, and it will earn a few more sales and media placements, being a best-seller by itself isn't necessarily reason enough for a media outlet to cover you.

You still need to contact the media, identify an interesting story angle, showcase your qualifications, and show why they should want to speak to you now over all other authors and experts, including other best-selling authors.
PLEASE CONSULT THESE TIMELY RESOURCES
Powerful 2020 Book Marketing Toolkit -- FREE
How Do Authors Promote Books When The Media Is Corona Centric?
Advice to Authors From A Book Promoter of 30 Years
How Are Authors Selling Books Through A Pandemic?
A Book Marketing Pandemic Playbook
What Types of Books Can Get Media Coverage Now?
The Bestseller Code For Book Marketers & Authors
What Should You Do to Market Your Book?
Brian Feinblum's insightful views, provocative opinions, and interesting ideas expressed in this
terrific blog are his alone and not that of his employer or anyone else. You can – and should -- follow him on Twitter @theprexpert and email him at brianfeinblum@gmail.com. He feels much more important when discussed in the third-person. This is copyrighted by BookMarketingBuzzBlog ©2020. Born and raised in Brooklyn, he now resides in Westchester. His writings are often featured in The Writer and IBPA's Independent. This was named one of the best book marketing blogs by Book Baby

http://blog.bookbaby.com/2013/09/the-best-book-marketing-blogs

and recognized by Feedspot in 2018 as one of the top book marketing blogs. Also named by WinningWriters.com as a "best resource." He recently hosted a panel on book publicity for Book Expo America.